Buying Florida Pick 5 (added in August, 2016) tickets is easy. It's the game where you can play everyday. You can win a top prize of $50,000 with a $2 Straight play, or increase your chances of winning with a Box, or Str/Box. Simply select your lucky numbers and play it your way everyday!
Note: Florida Pick 5 is a twice-a-day game. However, we only operate the evening draws.
Log in to your account. If you do not have one, click here.

Select how many tickets you want to play. Select numbers for each digit.

If you want to use your computer randomly pick numbers, simply click Quick Pick button.

Decide which methods you want to play, you may choose Straight, Box, or Str/Box. For indivial payouts, click Odds and Payouts.

Select how many times you want to play. You can play up to 14 times.

Click Add to Cart botton, then, select Check Out.

Fill out payment information, or use your account money. Double check all information in the form, then, submit your tickets.

Once we have received and purchased your tickets, we will send you a copy of your tickets.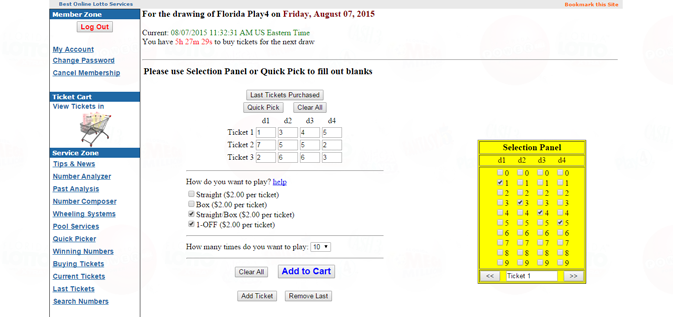 How to Buy Tickets Online: